A Private Blog Network (PBN) is a group of blogs on authoritative domains and hosted on different servers with different IPs. These blogs are created to simulate quality backlinks to the owner's money site.
Done correctly, a PBN blog looks like any other blog you visited that never quite answered a question but had a few links to other sites in the article.
PBNs are mostly built for search engines, though good quality ones can have legitimate traffic and content. This all depends on how competitive the niche is.
We've hosted tens of thousands of blogs for PBNs since late 2014 and this guide comes from the experience of helping our clients with their SEO.
Do PBNs still work in 2021?
Yes, PBNs still work. Actually, they work really well. While bloggers, gurus, and agencies talk about new methods, "white hat" links, guest posting as the new best method, … all of them still own and rank with PBNs. We know because we host their blogs.
Aren't PBNs black hat and I'm supposed to do white hat link building?
Google considers absolutely any intentional link building as against their guidelines, and since early 2020 that even includes guest posts.
Anyone that says that "white hat link building" exists either doesn't know what they're talking about or they're trying to sell you "white hat links" (which don't exist).
Why should I build a PBN?
Anyone who has tried ranking a site that isn't in itself news-worthy knows it's really hard to build natural links. That's where PBNs come into play. You get high-quality, relevant backlinks that you have full control over.
If you own multiple websites you can leverage the PBN for all of them. If you are an agency, then you can use it for all your clients. If you have just one website, you can sell or rent links to friends in the industry so that you get the investment back quicker.
Why shouldn't I build a PBN?
This is not a beginner-friendly method. It takes time and money. If you're barely getting started, you're better off buying links and focusing on your money site. The starting investment should be at least $500. It will go into domains, PBN hosting, and content.
If your business can invest money into PBNs, the returns can be fantastic. This is especially important if you're an agency where you can leverage the same blog many times.
I could also tell you that PBNs are at risk of deindexation by Google, but as mentioned before, any link building technique has these risks associated with it. If done properly though, that risk can be significantly decreased because with PBNs you're controlling all aspects of it.
Building PBNs
You have the money set aside, you have a VA that will help you with the annoying stuff and you're ready to go. Where do you start?
Finding Domains for your PBN
You are looking to buy domains, or even existing blogs, that have history and backlinks. There are multiple ways to go around this:
Expired Domains: domains that have been expired and can be immediately registered at any registrar (hard to find)
Closeout Domains: domains that are just before expiry but the registrar is selling them before that because they have value (best option if you can find them)
Auction Domains: domains on registrar auctions that go to the highest bidder (can be expensive)
Existing Blogs: blogs and sites that the owners lost interest in and/or are willing to sell (hard to find)
The first three options can be automated by a domain-finding tool. We recommend you try SpamZilla that can search all these domains. The third option is fully your own research and imagination.
Hosting your PBNs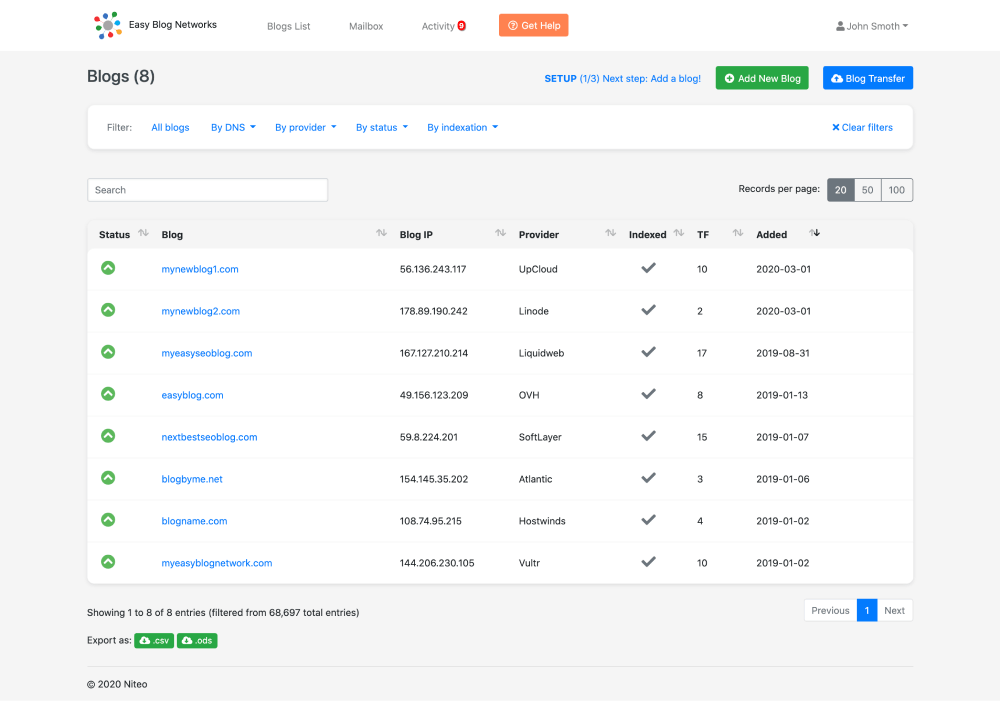 Hosting used to be the most complicated part of building a PBN correctly. You need to be using different hosting providers with different servers on different IPs, keep all of your blogs up-to-date, keep settings random to prevent footprints and so much more.
We built Easy Blog Networks to solve all of that. With EBN you get access to the best hosting providers, like Amazon Web Services, Dreamhost, and Digital Ocean. All of your blogs are hosted on different IPs, and we randomize WordPress settings to make sure none of your blogs look the same.
EBN takes care of all things related to hosting PBNs, so you can work on everything else.
You can try out EBN with a 7-day free trial and we support up to 1000 blogs in one account.
Content for your PBNs
Once you have the blogs hosted on EBN, the last thing left is publishing content. You'll want to start with at least 15 posts, backdated for a few weeks, then add at least 1-4 articles per month.
Hiring article writers for that would become expensive really fast, so you'll want to leverage modern tools for this as well. But since we're all about ease and automation, we've also added GPT integration that does automatic posting of content for every blog in your account.
Another option is to get Fiverr writers to use Jarvis.ai to write a solid article but that will cost at least $5 per article.
This way, your VA can easily publish 10 articles within only an hour or two.
Start your PBN today
Blog networks have been one of the best SEO strategies for almost a decade now. And they will continue to be for as long as search engines use backlinks as one of the ranking signals.
Join thousands of other SEO agencies, affiliates, and gurus and start your own blog network on Easy Blog Networks.