Large agencies, small affiliates, and even known SEO gurus host their PBNs with EBN. We are by far the easiest and cost-effective solution for PBNs.
Since we launched in late 2014, EBN has become the leading provider for PBN hosting with constant improvements to our service, regular increases in the number of IPs available, and knowledgeable support on three continents.
If you host with our competitors and are unhappy with the lack of IPs, maintenance or security issues, or if you have a custom solution that's becoming too complex to manage, EBN is the solution to get your business to the next level.
Easy Blog Networks vs Competitors
After our launch in 2014, many new services launched, some blatant copy-cats of EBN. That said, there are still some solid services that try to provide good PBN hosting. We think EBN is a far better choice for multiple reasons.
More Hosting Providers & Easier to Use and Manage

From the very start, our focus has been on providing hosting on large, well-known, and reputable hosting providers. Your blogs are hosted on servers of Amazon Web Services, DreamHost, Digital Ocean, LiquidWeb, and many others.
Our next goal was to make adding and managing new blogs as simple as possible. The number one thing we're known for by our users is the ease of use.
You can add a new blog on a new random host on a unique IP with just a few clicks. We'll automatically install a random theme, and set up WordPress with random configuration to prevent footprints.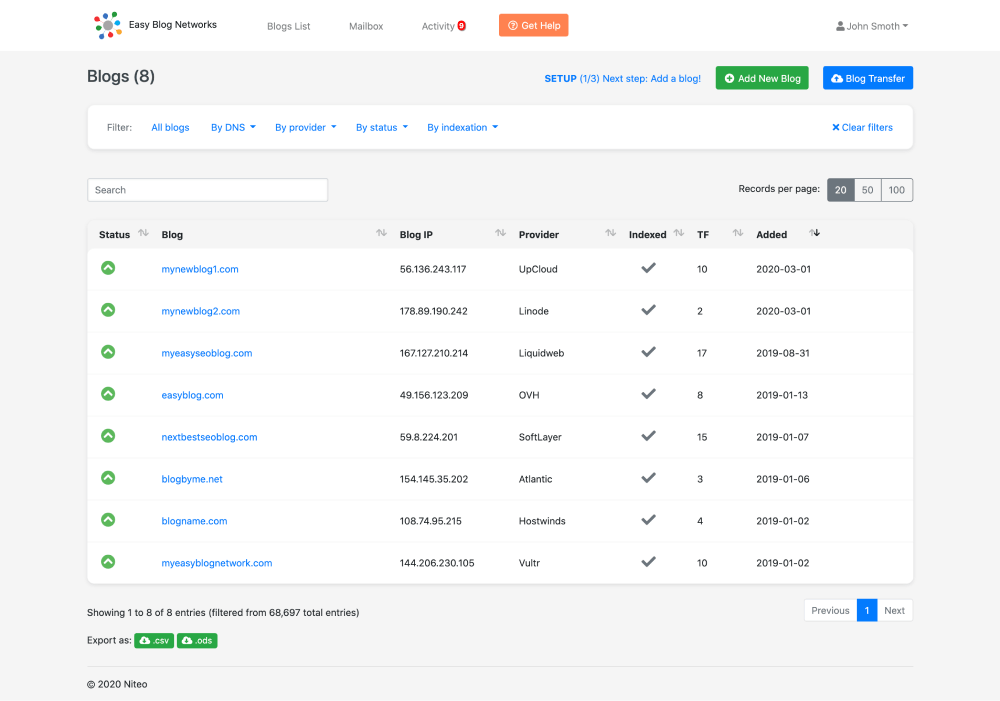 Not only that, but we also make sure that none of our servers leave any kind of footprint, plus all of your nameservers are provided directly by the hosts themselves. It's a fully natural set up for your PBN.
Maintenance is on full autopilot. Servers are regularly upgraded for security, blogs are checked and updated daily, and we provide daily backups for all blogs.
Company With a History and a Team to Support Your Business Long-Term

Niteo, the company behind EBN, has been founded in 2007. We have people in the Americas, Europe, and Asia. You can learn more about us and our team on our website.
All of our competitors are anonymous companies. They don't show the faces of the people, they don't tell you about their history, or who they are. Are they run by one person? Are there three people in a basement? Nobody knows but them.
Trust your business to a company that doesn't hide and has been in business for more than a decade.
Outlook

Easy Blog Networks is the leading PBN hosting provider and we intend to keep it that way. We're constantly improving our service, adding new IPs, new hosting providers, and making our service more reliable.
Our team of knowledgeable technical and SEO people is making sure your PBN runs well, so you can focus on building your business.
A Quick Note on SEO Hosting Providers
SEO hosting has been replaced in the minds of SEOs by the more advanced concept of PBN hosting and it shows in the search results. When you search for these providers, most are stuck in 2010 with the concept of what SEO hosting is, and also with their web design.
All of these providers offer only their own servers and IPs which was the root cause of deindexations before the invention of PBN hosting. As such, they are inadequate for the current requirements of SEOs.
Why EBN vs your custom solution

We've moved large PBNs in the past from custom solutions to EBN. With that, their owners have gotten rid of annoying billing on multiple providers, or potential security disasters on unmanaged servers. They also received an increase in the diversity of hosts, servers, and IPs. The potential increase in cost per blog is more than covered by the decrease in manhours on maintenance and security upgrades.
We can support up to 1000 blogs and we have multiple users taking advantage of our largest Enterprise plan.
What our users say
We've moved thousands of blogs from our competitors to Easy Blog Networks. In the beginning, some users have split their hosting between multiple services for service diversity.
But once they get used to EBN's reliability, ease of use, and history of safety, we move all or most of their PBN to EBN. This is confirmed by our survey results: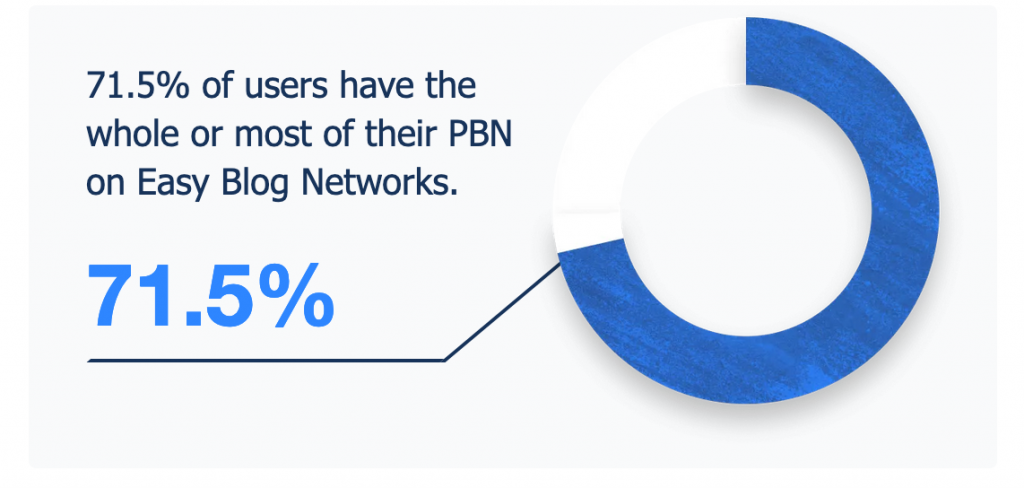 EBN also consistently receives a fantastic recommendation score from our users: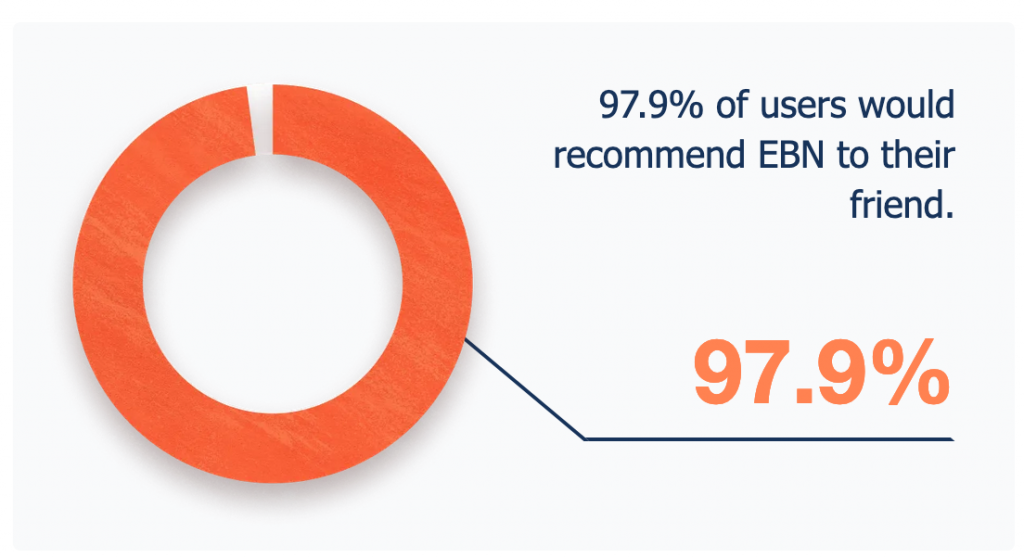 Some of our users have been with us from the very launch in 2014. Here's what a few of them had to say:

Free Transfer from your existing host
We can transfer thousands of blogs per week. No matter the size of your existing PBN, we'll move it to EBN, and put the maintenance on autopilot. Adding new blogs will be way easier and you'll spend a lot less time managing your PBN.
You can start with a 7-day free trial or, contact us if you have more than 100 blogs and would like someone from our team to guide you through the process.